African Americans in Georgia Are Fighting Against Lung Cancer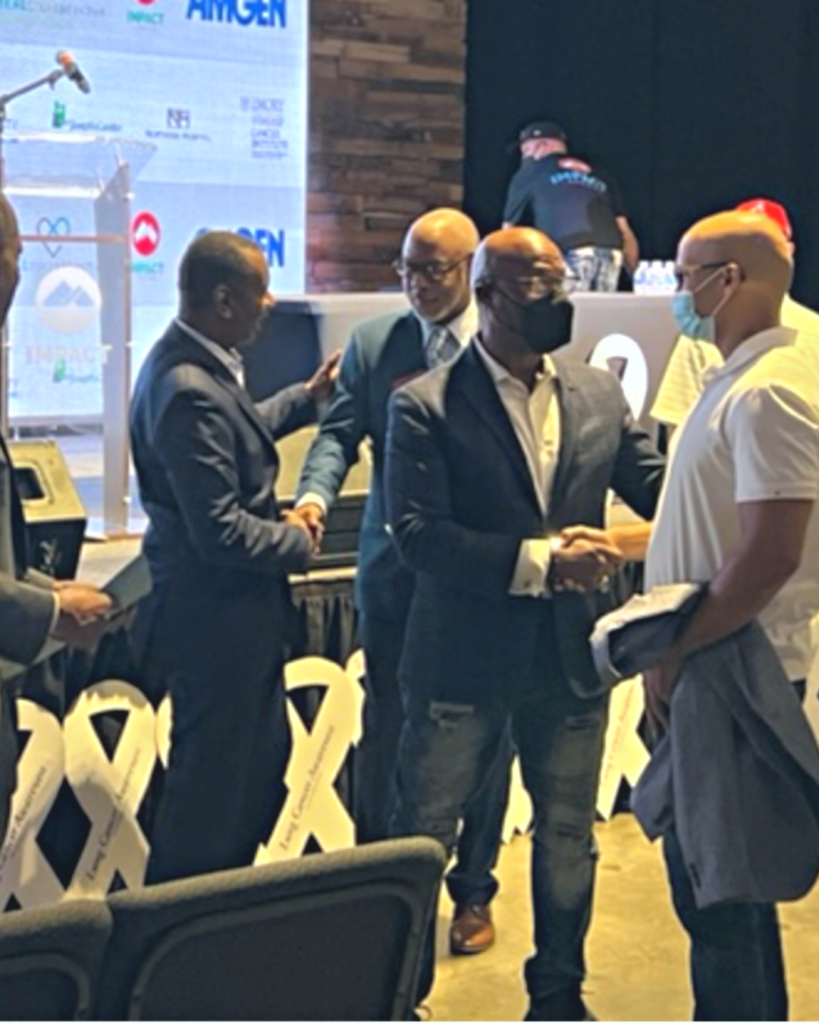 HEAL Collaborative partnered with Amgen to bring about the first lung cancer educational series in Georgia that was targeted toward African Americans. Out of all cancers, lung cancer has the highest mortality rate. Within this rate, African Americans are impacted the most. Having this data just wasn't enough. This information had to get into the community in the hopes to save more lives. Saving lives is the true mission, therefore, it was only right to connect with the center of hope within the community- the church. This series gathered esteemed panelists from across the state of Georgia who shared rich knowledge from both the medical and patient perspective. Panelists provided information and resources on early detection, screening and biomarker testing.
Why Are Lung Cancer Mortality Rates Higher in African Americans?
This was and is still the questions that many are asking. Quite often lung cancer is not discussed until you are over 50 years of age and have a smoking history. By sticking to this protocol, many are overlooked. Lung cancer survivors such as Jaymie Knox, Brandi Bryant and Natalie Brown were all healthy, young women who did not have a smoking history when they received their stage IV diagnoses. Their road to diagnoses wasn't an easy one- as they did not fit the criteria. Instances like these further solidified the program's message that, "if you have lungs, you can get lung cancer."
Dr. Eric Flenaugh, Chief & Director, Pulmonary and Critical Care & Interventional Pulmonary Medicine, Grady Health System, Morehouse School of Medicine , shared his insight as to why our community is seeing higher numbers of lung cancer: "African Americans are less likely to meet the screening and eligibility criteria. They're diagnosed at later stages and less likely to receive standard diagnostic staging and treatment options. Some of that comes from not having access and the lack of knowledge. The other part is, not having the awareness of what to ask for when they go to speak with their physician. [Things such as] what tests they should be doing and not having the background knowledge to demand that they're getting the right level of care that they deserve."
Health equity is at the core of the issue which presents some opportunities for medical centers, both large and small, to further engage African Americans. Opportunities such as ongoing education, highlighting all available programs, screenings and treatments regardless of income and insurance coverage.
The Church and the Community
The workshop was kicked off in Albany, Georgia at Mt. Zion Baptist Church. Senior Pastor Daniel Simmons came to realize how critical it was to share this information within the congregation. "This program raised awareness for something that was not on our radar" stated Pastor Simmons. Since hosting the lung cancer series, his members and local community have stepped up in a major way. Some members have come forward with their lung cancer diagnosis and others are seeking answers in order to maintain their knowledge and to share it with others. Pastor Simmons saw the need and has created a space for ongoing care by establishing a lung cancer support group which he shared during his time at the Congressional Black Caucus' 51st Annual Legislative Conference in Washington D.C. . Local healthcare system, Phoebe Putney, has since made launching their lung cancer support group a priority which has had great attendance and participation. Mt. Zion Baptist and Phoebe Putney continue their close partnership in effort to promote overall wellness and advocate for those who are in need.
An Atlanta area church also stepped up to answer the call and they saw the value and impact that it would have on their community. HEAL partnered with Impact Church, of East Point, Georgia, to bring together another dynamic panel to share their lung cancer knowledge and resources. "I would not have known anything [about supporting lung cancer patients] without the help of this program," stated Care Pastor, Eddie Bridgeman. Pastor Bridgeman graciously led the program's initiative which further aligned their church's motto of "doing church differently". Impact Church is also the the church long-time lung cancer advocate Chris Draft belongs to. "I'm excited because this is not just any church, this is MY church who's sharing this information. When we share information, lives will change." The church continues to connect with local leaders and community organizations to support those who are fighting through lung cancer.
The close of the program focused on clinical trials and legislation. Clinical trials often brings about skepticism amongst the African American community. Local hospital clinicians shared the importance of diversity in clinical trials. They stated that just because they have the same disease does not mean that their experience is the same. Collecting data from minority populations is a crucial component to ensure that the provided research data is fair.
The experts went on to share that a lot of time and consideration goes into preparing for a clinical trial. The best thing a patient can do is to conduct extensive research, take their time to carefully read through the consent form, seek out support of family and friends and communicate with their medical team often. When conducting a clinical trial, the patient's safety is high priority. For that reason, a patient can choose to withdraw, or the medical team will elect to for the patient to be withdrawn, if at anytime the treatment is deemed to be unsafe.
Georgia State Representatives: The Honorable Senator Gloria Butler, The Honorable Representative Dexter Sharper, and The Honorable Representative Roger Bruce, weighed in on how the community can partner with their local elected officials. "It's very important for us to be apart of conversations like these. We want to be involved, however, we are not always invited to the table," stated Representative Sharper. He went on to say, "I sat here and took many notes and began to think of how can we get some type of legislation for this."
Since the program wrapped, many faith based organizations have learned about the lung cancer program and are eager to support their congregations in the same way. HEAL is grateful for their growing community of fighters and looking forward to continue in the fight to save more lives.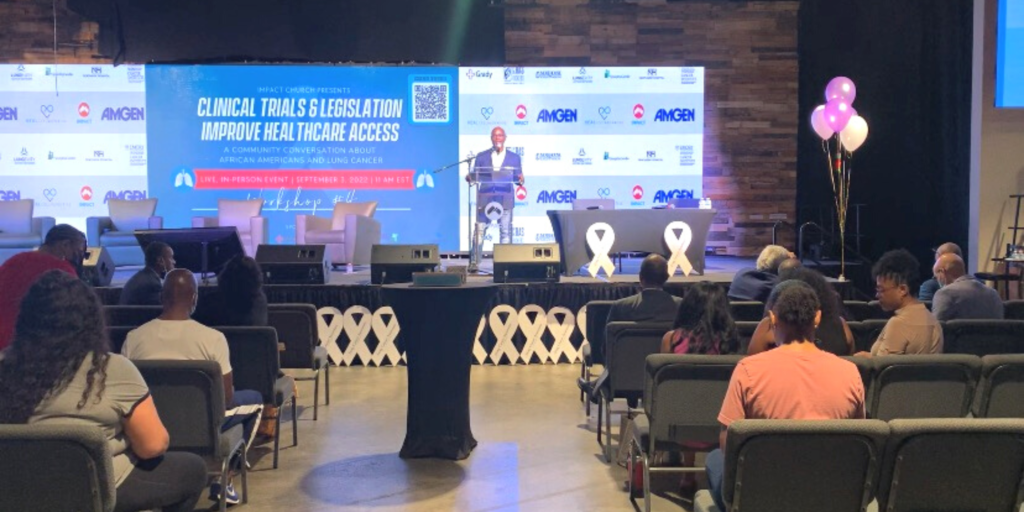 Watch the lung cancer programs on HEAL Collaborative's YouTube channel
Want to learn more about lung cancer screenings, early detection and treatment? Read the Lung Cancer FAQs.
Thank you for all of the partners who came together to join in this fight to save more lives: Mt. Zion Baptist Church of Albany, GA, Impact Church of East Point, GA, AMGEN, LUNGevity, Phoebe Putney Health System, GO2Foundation, Northside Hospital, Grady Memorial Hospital, Emory Winship Cancer Institute, Morehouse School of Medicine, KRAS Kickers.