National Minority Health Month Q&A With HEAL Collaborative Medical Director & Chief Medical Officer, Dr. Lawrence Sanders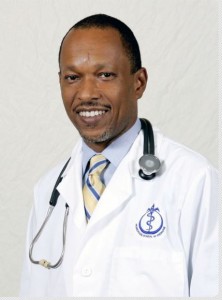 Dr. Lawrence Sanders, MD, is HEAL Collaborative's Medical Director and Chief Medical Officer. He is also the Medical Director of the Grady Health System, where he serves as the physician advisor for clinical documentation improvement, care management and hospital throughput. He practices internal medicine and believes that good health is the result of individuals, groups, organizations, neighborhoods and communities working to create the conditions in every neighborhood and community to foster good health. Dr. Sanders is aABMS Board Certified in Internal Medicine, which he teaches along with business principles and patient safety/quality improvement to residents and medical students as an Associate Professor at Morehouse School of Medicine.
In honor of National Minority Health Month, we sat down with Dr. Sanders to get his insights on which topics he believes should be at the center of the discussions happening this month, and how we can best educate ourselves and bring awareness to these topics to advocate for meaningful change as we consider the best paths forward to achieving health equity.
During National Minority Health Month, what conversations do you believe need to be at the forefront–especially in the face of COVID-19?
Minority Health Month presents an opportunity to call attention to long standing disparities in health care and health among African Americans and other underserved populations. The month allows people who do not face disparities and challenges linked to inequity based on race an opportunity to learn and may motivate some to advocate for health equity.
For African Americans, and others who face disparities every day, this month may serve to spread the word that health is the result of what you do every day, what happens in our neighborhoods and the degree of equitable distribution of resources reached by our elected leader. Good Health requires the attention of individuals, organizations, neighborhoods, cities, states, and the nation.
The COVID-19 pandemic made it easier for all of us to see that what happens around globe impacts all of us as individuals and most importantly our health. COVID-19 exposed disparities in health care access, added light to the significance of health determinants such as where people work, where people live and made clear the consequences of lack of access to quality health care. The pandemic laid open for all to see the impact of long standing systematic disparities in resource distribution across all sectors of life. Because our health as African Americans is tied to each other and influenced by our environment, we need conversations with each other–get vaccinated, wear your mask, keep your social distance and wash your hands for a little while longer.
We need conversations to cross explicit and implicit racial boundaries because race and racism are real but not insurmountable challenges. Working together we can find ways to overcome the long standing challenges to finding the common ground that ties all people together as well as to accepting and appreciating our differences. The outcome of our work together must assure that opportunities for good health, including access to quality affordable health care, extend to all Americans.
In your own words, what is health equity?
Health equity is not a destination, or point to be reached, but a journey where all of us must work together as individuals, organizations, neighborhoods, cities, states and nations to create the conditions in every neighborhood to give every resident the best opportunity for a healthy life. Without health, equal opportunity becomes impossible, because health makes it possible to take advantage of opportunity and to make social connections needed for a productive life. Health equity requires equitable resource distribution and safe environments to live, work, and play. Health equity aims to assure that all people have the best opportunities to achieve optimal health outcomes.
What health disparities are the most significant barriers for African Americans, and other underserved populations, today?
Because inequalities date back almost 400 years, African Americans bear disproportionate burdens illness and injury. This disproportionate burden represents a visible and significant consequences of disparities in health. Many African Americans and other people who bear economic disadvantages suffer from chronic conditions and need health care. The uneven distribution of health services and access to services becomes hard and people endure unnecessary suffering. People who work in small businesses or who are self-employment may not have access to health care coverage–making an already complex situations more complex.
To answer the question, I believe lack of access to quality affordable health care and a disproportionate burden of chronic disease represent two significant disparities.
For people who come up against barriers to treatment – what advice would you give?
My recommendation is to find a physician you can work with, who listens to you and who talks to you. Do not be afraid to find another physician if the relationship is not meeting you needs and expectations. Often people find it easier to build relationships with physicians who share characteristics similar to their own. Race and ethnicity may be one set of the characteristics, but others attributes may work as well when it comes to your choice of a physician.
African Americans make up 5% of the physician workforce–about 50,000 physicians–not nearly enough. We need to invest in growing the number of African American physicians. Specifically African American men, because the numbers of African American men in medical school today or far less than 40 years ago. African American physicians enjoy a legacy of extending access to quality health care to people living all over America but specifically to people who live in neighborhoods that face economic and social disadvantages.   
What can community leaders–including churches and church leaders–do to improve health?
Let's start with the church and other faith-based organization. For more than 400 years, African Americans have looked to the church for spiritual guidance and reliable information to nurture the faith to get up every day and to keep moving in the face of challenge and adversity. Church leaders must get accurate and timely information to their congregations. Identify subject matter expects in the congregation and make connections with others to find good sources to keep people informed. Because health represents a basic human need–health ministries create opportunities for people to serve, learn and grow. Health ministries should aim to help people engage and sustain healthy habits and behaviors.
Elected officials must advocate for equitable resource distribution not limited to health resources but to include health determinants–education and schools, safe neighborhoods with sidewalks, safe and clean environments, and investments in jobs and economic opportunities. The challenge to extend health care coverage to all people living in neighborhoods across American remains in front of us. Medicaid expansion and efficient public access to health insurance represent critical milestones. Just as important, elected officials must lead efforts to invest in neighborhoods–support high quality public education, support efforts to sustain safe environments to live, work and play, support housing initiatives that make safe housing affordable and address housing insecurity.
What are some practical steps individuals and families can take to stay healthy?
First steps: start with daily habits. Make soul food healthy food–use available recipes, ideas, and creativity. Find some time for physical activity–either together as a family or support each other's efforts.
In the face of COVID-19, keep a strong conversation about safety. Serve as a role model: wear your mask, watch your social distance and wash your hands–get vaccinated and share your experience to encourage vaccination among family and friends.
See Dr. Sanders' full bio on our Leadership page, and for more information and resources on National Minority Health Month visit the National Institute on Minority Health and Health Disparities.
In honor of National Minority Health Month, follow HEAL Collaborative's Facebook, Instagram and Twitter for educational resources shared throughout the month.