Minority Organ Donor Awareness: Spreading Awareness and Truth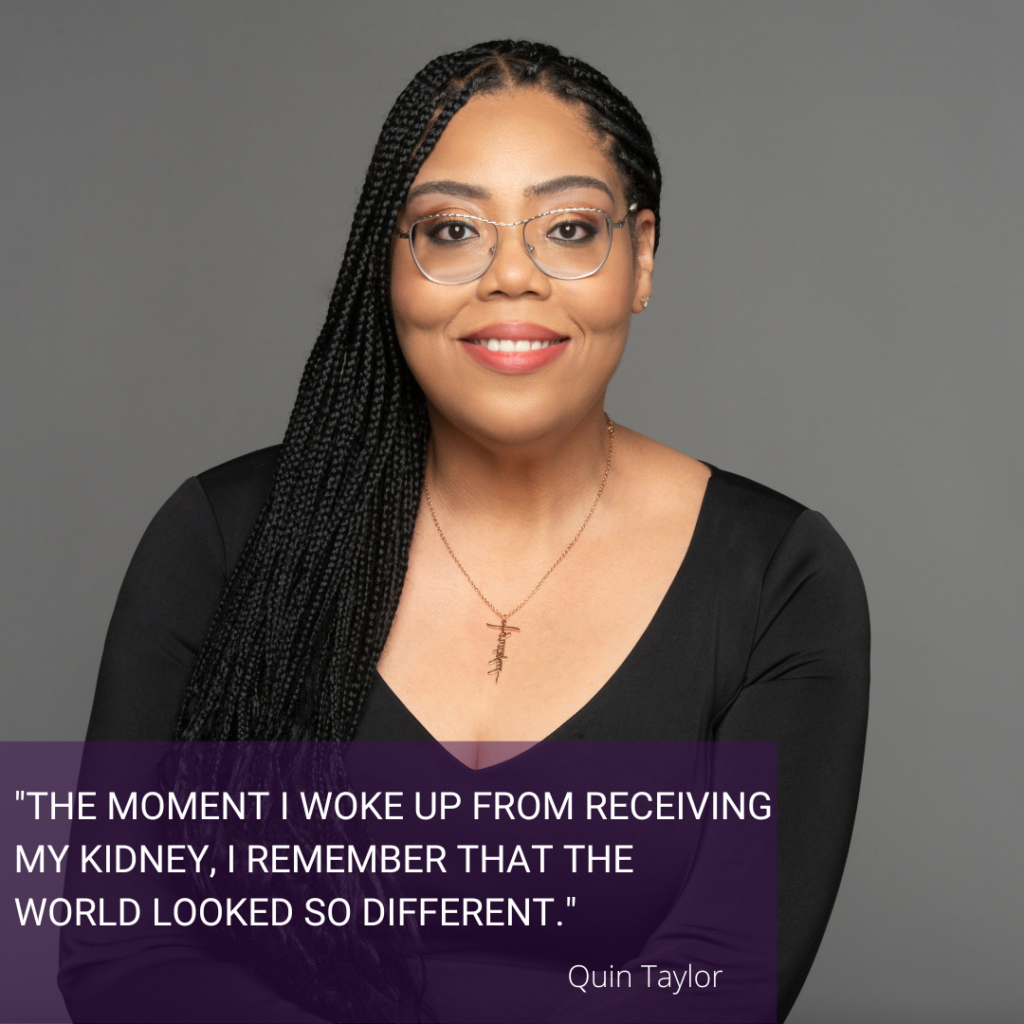 We had a chance to catch up with our very own, Midwest Regional Director, Community Outreach and Advocacy Engagement, Quin Taylor, to learn more about National Minority Donor Awareness Month. Being a kidney donor recipient herself, makes advocating for minority donors both a personal matter and mission in hopes to break down the unnecessary barriers and myths of organ donations.
What is National Minority Donor Awareness Month and why is it important?
National Minority Donor Awareness Month is a collaborative initiative of the National (Organ, Eye and Tissue Donation) Multicultural Action Group (NMAG) to save and improve the quality of life of diverse communities by creating a positive culture for organ, eye, and tissue donation. This is important because we know that BIPOC are among the largest groups needing transplants, especially kidneys, but have the lowest numbers of individuals receiving transplants.
If we're being truthful, there are some skepticisms when is come to someone deciding to become a donor. What have you found to be some of the myths and what is the reality?
I think one of the most popular myths is that if a doctor knows you're an organ donor, they won't do everything they can to save your life so that they can recover your organs. This simply isn't true. In order for an organ to be viable, the doctor's need to keep the potential donor as healthy as possible. You can't transplant damaged organs, and that is why everyone doesn't qualify to become a donor, even after they've passed on. I also think that most people don't realize that you can live a healthy and full life with one kidney, but you can.
Over the years, you have continued to do an amazing job advocating and bringing awareness to CKD. You have also been a kidney donor recipient; would you mind briefly sharing both the importance of receiving from a donor and what impact this has had on your life and overall health?
Receiving the selfless gift of an organ so that I can have a second chance at life has been invaluable. The moment I woke up from receiving my kidney, I remember the world looked so different. Colors were more vibrant, everything looked brand new. I felt like I waking up out of a deep sleep and the world looked so much richer than I'd remembered it. The greatest impact my transplant has had is I no longer have to do dialysis. In order to keep my kidney healthy, I've acquired a much healthier lifestyle. Gratitude keeps me alive and gives me purpose because who wouldn't be grateful for another chance to live?
Should someone learn that they're in need of a donor, what is the typical process?
If they're on dialysis, they let their Medical Director know who will connect them to a health system's transplant program. There are a list of requirements such as healthy lab results for a pre-determined amount of time; is your heart strong enough to endure the surgery and recovery; are you healthy over all…certain programs have additional requirements that can include being a certain weight and making sure your BMI is healthy. Once you go through the complete workup, your information will be sent to the United Network of Organ Sharing. You will receive a letter letting you know that you have officially been listed on the list to receive a life-saving organ.
If the patient is not on dialysis, they will work with their doctor or specialist through the same screening and evaluation process to be listed.
Organ donation is often dealt with through legislation, both locally and nationally, can you explain why this is important and how it can help?
This is important for many reasons. Legislation holds entities accountable to provide healthcare that everyone deserves. It ensures that kidney screenings are not only accessible, but that it becomes a routine part of healthcare. Legislation has made it possible that teenagers as young as 16 can be donors, increasing the number of organ transplants that can be done. Legislation had ensured that transplant patients receive the medication they need to keep their organ from going into rejection. It also opens up the doors for innovative treatments and therapies to be accessible.
If someone wants to apply to become a living donor, what are the first steps?
The person looking to be a living donor would reach out to the potential recipient's transplant program. From there, they have to meet basic criteria such as not having high blood pressure, being morbidly obese. They would then go through the best checkup they've ever had. This is necessary to ensure the recipient received a healthy organ and that the donor is healthy before and after the transplant takes place.
If someone is listed as an organ donor on their driver license, are they automatically placed into a database? Where else should you register?
The way most people know to register as an organ donor is to sign up when they renew or receive their license. This is kept in a database so that your wishes are carried out. You can also go to the website https://www.donatelife.net/ to register to be an organ donor. If nothing else, let family and friends know your wishes that you want to donate your organs. It really is helpful to them at that time of grief, not only is that one less decision they have to make but as they carry out your wishes, you have the opportunity to enhance the lives of 75 people. That to me is a beautiful legacy.
Can you share some resources where people can go to learn more? (Links are below)
https://www.kidney.org/news/nkf-celebrates-national-minority-donor-awareness-month
https://nationaltoday.com/national-minority-donor-awareness-week/ – :~:text=National Minority Donor Awareness Week – August 1-7, 2022